Mobile Orchestra is the fifth and latest album from electronic producer Owl City. It was released July 10th, 2015 and has songs featuring many artists such as Aloe Blacc, Sarah Russell, Hanson and Jake Owen.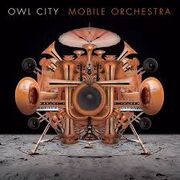 Japanese editionEdit
It contains one song previously released on the EP Ultraviolet- This Isn't the End.
On the standard edition, it includes the promotional single, You're Not Alone (feat. Britt Nicole)
On the Japanese edition it has two additional tracks: Mobile Orchestra and Tokyo (feat. Sekai no Owari).
Ad blocker interference detected!
Wikia is a free-to-use site that makes money from advertising. We have a modified experience for viewers using ad blockers

Wikia is not accessible if you've made further modifications. Remove the custom ad blocker rule(s) and the page will load as expected.